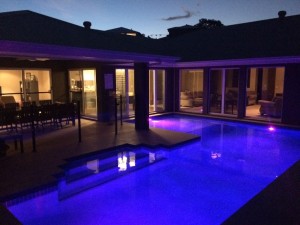 We are extremely thankful to Chris and Gary for their wonderful work in the design and construction of our new home. The process was easy and enjoyable from start to finish. Gary was able to take our ideas and custom design a house with a layout perfect for our family, one that is both functional and interesting, and well suited to our block of land. Every small detail was taken care of, and we were involved in the design process the whole way through. When it came time to build, Chris was amazingly organised and helpful, completing our house in five months. We felt assured that our build was in good hands, and we have been very happy with the completed product, along with the follow up after handover. Chris and Gary were always friendly, helpful, and easily contactable. We wouldn't hesitate to recommend Reefsea Homes to any of our family and friends, because we have been extremely happy with the build process and our new home, which we have now been in for a few months. Thank you Chris and Gary!
Craig Family
---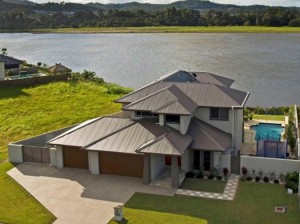 I decided to move away from the Rat race of Inner Sydney, several years ago, and upon finding the perfect size waterfront block of land in Regatta Waters, went through the frustrating process of finding a quality builder to build my dream house.
I visited endless "building sites", display homes, and even asked dozens of people entering the local Woolworths store, recommendations of Gold Coast Builders.
Most answers were that ( Reefsea Homes ) were the most trusted, scrupulous and reliable, builders on the Gold Coast.
Once meeting with Gary and Chris Metcalfe Brothers, seeing the quality of their display house and myself, being a Licensed Plumber, Drainer & Gasfitter & in the building industry myself for 25 years, it soon became apparent that I had found non – comparable, high quality builders.
Gary Metcalfe, whom in my eyes, is a supreme architect and had drawn up plans that I'd roughly sketched. 6 bedrooms, all overlooking the beautiful waterfront. Gary spent many hours drawing plans until my dream house lay before me, on plan.
The Metcalfe brothers also put their professional input into the design and layout of each item throughout the house build and suggested dozens of items I'd never thought of.
Upon Slab preparation, through to final fit off, Chris and his excellent team of tradesmen were friendly, productive, professional, extremely clean tradesmen and completed the house ahead of schedule.
Upon completion, Chris was scrupulous and highly attentive to every detail and the finishes and final build quality was like no other I'd see before, remembering I'm a tradesman myself over 25 years.
And now, several years on, should any problems arise, Chris & Gary will act upon it straight away, where other builders in this industry will take their money and you'll never see them again, and that's another reason why Reefsea homes have clients that have built with them some years ago and not hesitate to re-build with them again.
I would recommend Reefsea homes to anybody that wants a great quality, long lasting build, on the Gold Coast and Hinterland.
And I look forward to re-building with Reefsea Homes in the future.
Thank you Gary and Chris for my astonishing well built home.
ADAM CASEY
---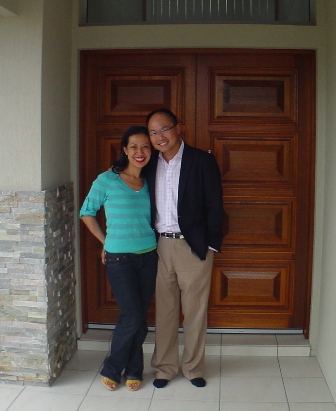 Gary and Chris Metcalfe from Reefsea Homes completed our waterfront house in Hope Island Resort.
We had purchased the land several years before and had discussions with many different building companies on the Gold Coast. As we lived in NSW, we had to be sure we chose reliable and honest builders who were well known and respected locally, as well as being great at communication and listening to what we wanted.
The entire process was seamless, enjoyable and incredibly efficient. At every step of the way, Gary and Chris kept us informed of the progress of the house, and sent us photos and updates as to the building, landscaping and pool. Andrea, in the office, was outstanding in her organisational skills. The house was completed way ahead of schedule.
Additionally, what struck us was how well regarded and respected Gary and Chris were locally on the Gold Coast, by their peers and other subcontractors many of whom had houses built by Reefsea as well. They both had a remarkable attention to detail which we believe is reflected not only in the awards they have won for their houses, but also in their past sporting, sailing and fishing endeavours. These men are high achievers and the quality of the houses they build reflects that essential character.
They say there is no better compliment than a referral, and we would have absolutely no hesitation in recommending the team at Reefsea Homes to anyone considering building a house, whether it is an investment or a Dream Home.
Simply put, we think that Gary and Chris Metcalfe and the team at Reefsea Homes are unreservedly the best builders on the Gold Coast and we hope to be able to use their services again in the future.
Regards,
Dr Michelle Chen and Dr Steven Tan
Sydney, NSW
---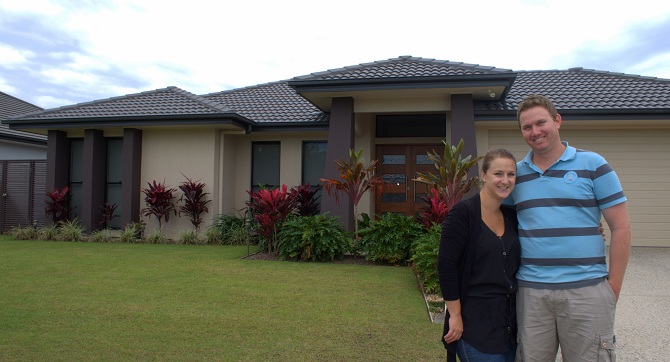 As first home buyers / builders it is very easy to become overwhelmed by the whole process. There are real estate agents, solicitors, banks, builders and the list goes on. My partner and I were 24 when we decided to take the property plunge together. It wasn't until 12 months later that were fortunate enough to purchase a block of land in Hope Island and begin the exciting yet daunting task of selecting a builder.
We looked through dozens of display homes and spoke to countless sales assistants, however, it wasn't until we visited Gary and Chris at Reefsea Homes that we knew we had found the builder for us. Right from the very beginning, Gary and Chris worked closely with us to customise a plan to suit our needs (and our budget!). Gary deserves a medal for his seemingly endless patience, no matter how many times we took to his designs with white-out and a pencil! In addition, Chris' flexibility and care free attitude were exactly what we needed during construction! It was a very trying yet rewarding time, and Chris' ability to no not bite our heads off every time we phoned with something we wanted altered or our never ending stream of 'silly' questions was amazing.
What set Reefsea apart from the other builders was there easy going, yet professional, no pressure attitude coupled with their quality workmanship. Every time we picked up the phone or visited the display we were dealing directly with the owners of the company. We had Gary and Chris with us every step of the way, which was incredibly comforting for us being first timers!
We started construction and four months later, we sat in our brand new kitchen and received the keys to our very own home, ahead of schedule. It is incredibly satisfying to sit back now and know that we did it! At 26 years of age, we have built our very own home, designed it the way we wanted, with the colours and finished that we chose (along with Gary's expertise and advice).
A big thank you to Reefsea for allowing us to make the dream of building a new home a reality.
Mark and Renee, Hope Island
---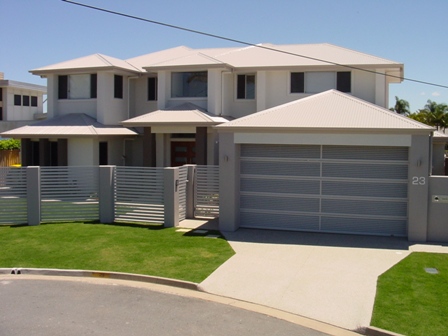 We have now settled into our beautiful new Reefsea Home and thought it appropriate to convey our heartfelt thanks.
What set your company apart from others that we considered, is that we were able to deal direct with the owners of the company throughout the whole process. Little did we know, from the first of many meetings with Gary through the design process (thank you so much for your patience), until the handover of keys, that we would end up with a product that surpassed our expectations. Throughout the entire build time, Chris kept us up to speed with what was happening and was extremely flexible and accommodating with our endless list of questions. Your professionalism and expertise in assisting us from the colour and material selections to the quality and finish supplied by the various tradespeople is to be commended.
You blended our thoughts and ideas with your innovation and expertise into a fixed price contract that was exactly that, with no hidden surprises and completed ahead of time. We are also very appreciative and thankful of your after sales support, service and advice, something we did not expect once we received our keys.
We are extremely proud of our new residence as you should be of the product you built for us. We would be happy to highly recommend Reefsea Homes to anyone contemplating building a new home.
Ross and Anne
Palm Beach QLD
---
We found our dream block of land, so the search was on to find the dream house. After looking through a few display homes, we walked into Reefsea Homes Capri 4 single storey home at Regatta Waters and just looked at each other, as it was just perfect. Just to make sure it was the right one, we spent many more weekends driving all over looking through other displays but every time we came back to Reefsea it was home!
We made an appointment with Gary to see if the Capri 4 would fit on our block and what a drama that was, as our block was an odd shape but we just had to have this house so Gary made it work. He spent many hours especially on our WIR as I had to have as much room as I could; he even had to cut back other areas in the house to achieve this. He understands what a woman wants and while doing all this, the boys shared their interest in fishing.
Once all the drawings were approved, the house was then handed over to the master builder Chris. This was the exciting part, as you get to see the house look like a house not just a drawing on paper. Chris was there just about every day making sure the tradesmen were doing the professional quality job that Reefsea display and that it was all quality (you can tell this just by walking through other display homes, the difference in the workmanship). It was then the big handover day approximately 4 months from slab being laid and 3 weeks ahead of schedule that we were given the keys to our new beautiful home and we love it!
Building a house has been a very trying and rewarding experience, but with Reefsea Homes they made it so enjoyable as Gary, Chris, Karen and Kerry have been there every step of the way. When building with Reefsea Homes you become part of their small family and I am sure we always will be, as they are all fantastic people. We want to thank them all so much for making our dream home become a reality.
Thank you Reefsea Homes.
Love you guys.
John and Hayley
---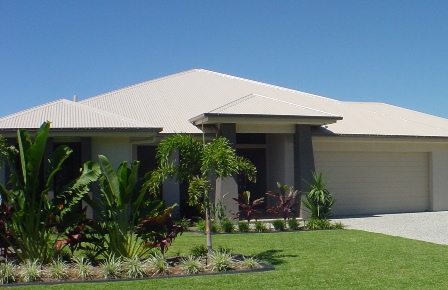 When we decided to build our second home we were looking for a builder that offered great quality, workmanship and after doing our research came across Reefsea Homes. We are in the construction industry ourselves; we were particular with our needs and felt that Reefsea would be able to help us achieve this. Our first home built by Gary and Chris was the Oasis 4 with the Rumpus added to the back. We felt the plan was well designed with practical living, outdoor entertaining being the main objective and suitable to our needs as a young family. During the construction process Gary and Chris were very approachable and helpful. This allowed for the whole process to run smoothly and hassle free without any complications or hold ups. It was completed as per our contract time of 4 months.
When it came time to build our third house, we had no hesitation in contracting Reefsea homes to build it for us. Our design this time was a custom plan, which in consultation with Gary and Chris was achieved and built to meet our needs, requirements. This house plan was designed with open plan waterfront living, outdoor entertaining with large and practical living areas in mind. Also catering for and providing a lifestyle for our children. The quality of the house was therefore evident at the recent Queensland Master Builders Awards when it was voted the best house for its category on the Gold Coast.
We never had any issues with the construction of our latest house. The tradesman and contractors that Reefsea Homes use are very professional. We would recommend anyone to build with Reefsea Homes, as we believe we found a builder that listened to our needs, catered to our requirements, provided a friendly and hassle free service. We have built a relationship that will last for many more homes to come. Thank you to Gary, Chris and the staff at Reefsea Homes.
Wayne and Debbie
---
We moved to the Gold Coast from Victoria this year and have built our beautiful home with Reefsea Homes.
Going back 10 years, when we made our decision to retire on the Gold Coast, we visited the Oasis display home in Robina and we knew immediately that we would build with Reefsea. They came very highly recommended to us from good friends of ours who had built two homes with them.
Each time we traveled to the Gold Coast we looked at other display homes but none compared – we always returned to the Reefsea display homes.
When we met with Gary and Chris Metcalfe, we knew we had found the builder for us. They were very east to talk to and very helpful – Gary in the planning stages and Chris during the build. Dealing directly with the builder was easy due to their very friendly attitude and they helped us in making the right decisions with the décor of our new home. They kept us informed of progress during construction and were only too pleased to answer our many questions along the way. Nothing was too much trouble.
Building a new home, especially while living in another state can be a stressful experience but Gary and Chris made this journey an enjoyable one. The house was completed on time which helped us in planning our big move.
And not forgetting Andrea in the office who did an excellent job with the paperwork. Thank you for making the experience an easy one.
We have no hesitation in recommending Reefsea Homes to anyone who is looking for quality in a home.
Tom and Christine McCluskey